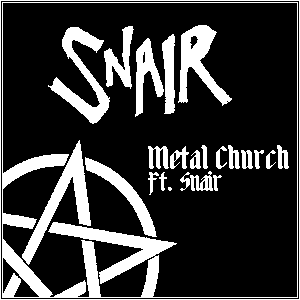 The second album I want to recommend is more of a demo, but still. So the "album" is 1988's Metal Church - Demo Tape with Snair, with singer Mike Howe. This demo is what I would call very mean, as in Howe doesn't seem like the best singer, but he sure gives a great performance. A performance that seems like he was giving it his best, and he really meant what he was singing. Don't get me wrong, this isn't me trying to put him down, in fact I really did enjoy his voice.
I haven't heard, or even played any other Snair songs, so I can't compare this "album" to others, but I can say that I enjoyed the overall feel of the tracks, and the instruments played by the rest of the band are as great as Howe's mean voice.
The last, and final track of this demo is a cover of Judas Priest's Hell Bent For Leather (from 1978's Killing Machine, also known as Hell Bent For Leather in the States), that sounds fantastic, and equal to the original track. I'm really glad that I found out about this demo; I only found out about it by looking up Judas Priest covers on YouTube, and I found this demo.
If you want to play this demo for yourself, here's the link: https://www.youtube.com/watch?v=LV_t9KdxsL0