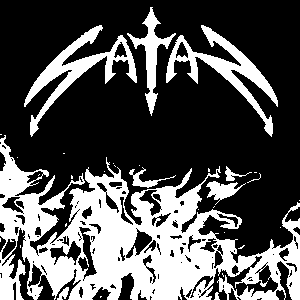 Sounding mean and really meaning it can be quite hard these days, there are seemly a lot of try-hards out there. With a band name like Satan you would think that they kind of push the line, and you would be somewhat right. Of cause, saying something like that would be ignorant of the music that the band have made, and the emerging culture of the new wave of British heavy metal (or just NWOBHMM) movement that was starting to emerge in the United Kingdom, and a movement that would soon arrive in the United States... Heavy metal that is, it would be weird if British heavy metal was in The States.
Looking into the history of the band, this is seemly their first demo that they would make, and it's great to see that they started off with a bang. Looking around, Trevor Robinson would be the singer on this demo tape, it would seem he didn't really do all that much with the band, as all he has is a live album, a demo, a single, and a compilation.
The opaning track on the tape, Kiss of Death, sounds nothing but fantastic, the craftsmanship on not only the vocals, but also the fact that all of the band were on point on what was likely a one-take job is great. The song somehow also gets away with presenting the viewer with lyrics that brings to mind gothic horror stories like Dracula, with gory lyrics like "Soon the night will fall / And he will rise / The sharp and bloodstained teeth / Bearing evil eyes / Poised in silence / Begin your final breath / He waits to deliver / The kiss of death" - grizzly fun!
Considering that this was merely a demo, and was not really made for a general audience, it's a shame that the band never upgraded the song from a demo, to a final product that you would see on an album (saying that, a review from The Metal Archives suggests it was indeed rerecord, but it sounds almost the same). It's kind of sad to know that this track - and the others on this demo tape - are in somewhat of a crappy quality. I suppose that is what happens when you store a cassette tap in the dark for 30 plus years, I know that I would be more than happy to get a cleaned up version of this short demo album.
More information on the tape can be found here: https://www.metal-archives.com/albums/Satan/The_First_Demo/14215
You can also play the demo on YouTube: https://www.youtube.com/watch?v=Av7WdYU8LS0